We complete the VF Engineering upgrade on this Gen 2 R8 V10 Plus, giving it 800hp
The Gen 2 R8 Plus is an awesome machine straight from the factory. Like its Lamborghini sibling, which shares the same V10 platform, it packs a winning combination of sleek good looks, finely balanced chassis and is packed with the latest tech. But it's the engine that steals the show.
---
The 5.2-litre V10 produces just over 600hp in the Plus and delivers potent performance, together with a scintillating soundtrack. There's not much that can beat the sound of a V10 at full chat. However, when it comes to power, there's always room for a little improvement…

The owner of this vehicle came to us requesting more power. A beautiful, low-mileage example, that's been fully wrapped by Yiannimize, we recommended a supercharger kit, which would deliver significant gains in power and torque, while retaining the linear power delivery. Having installed VF Engineering packages before, we were confident this comprehensive and very well-engineered kit would offer the perfect solution.
---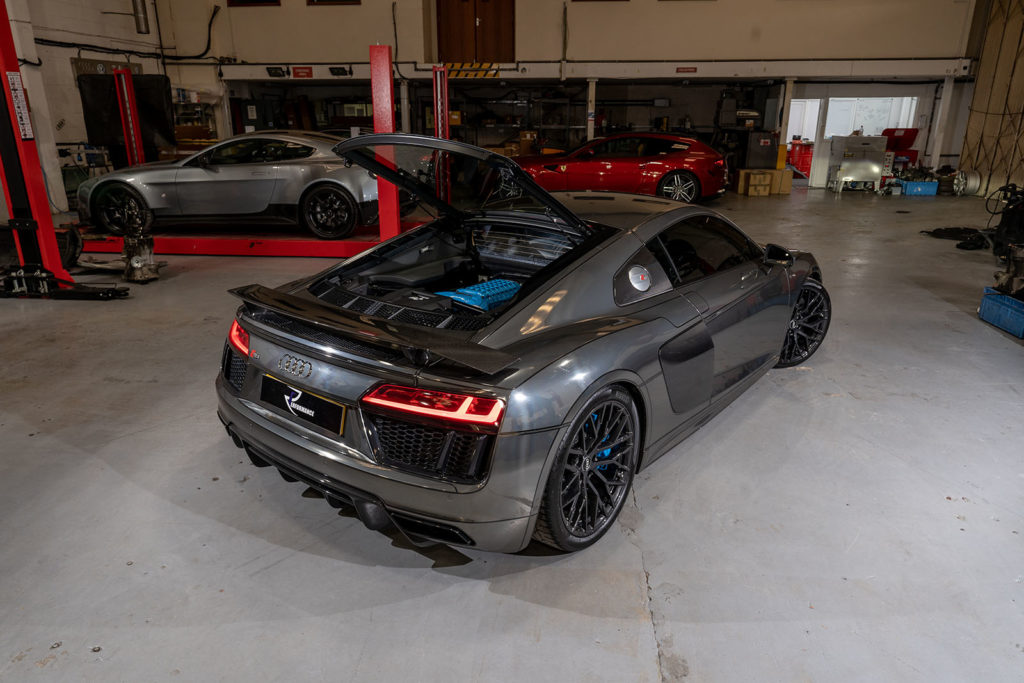 ---
It comes with everything required for a full drive in drive out installation to produce 805hp and 610/lbft of torque, including the Eaton TVS 2300 roots supercharger, the cooling system, aluminium intake manifold, Hex flash ECU tuning, high-flow MAF housings, high-flow dual throttle body inlet, internal bypass system, 2x K&N filters, all brackets, belts, pipes and hoses, plus ready to rock software for the stock R8 ECU.
Click HERE to watch our VF800 unboxing video.
The customer also asked for the supercharger to be finished in Porsche Riviera blue so that it would really stand out in the engine bay and we have to say it looks stunning. He also asked for the brake calipers to be painted to match – a really nice touch that draws your eye to the beefy carbon ceramics front and rear. We then installed some KW Automotive V3 coilovers, which will allow the R8 to be dropped closer to the road, but benefit from the HLS front-end lift kit – the ideal solution for negotiating speed humps and steep car park ramps
---
One of the benefits of the VF800 setup is that you don't have to drop the engine to install it. But that's not t say, it's a quick job! VF Engineering suggest 40 hours for a full installation. With the mid-mounted V10, there's limited access, so our technician Karl, had to work patiently and methodically. The car was with us for just over a week and once the software had been installed and the final checks made, we took it for a test drive. The beauty of the VF kit is that it behaves like a regular naturally aspirated car. There's no fuss or drama and it's easy to drive around town. But, once you get on the open road and hit the throttle, the extra 200bhp suddenly makes itself known.
With a large capacity V10 and bags of torque, it doesn't matter what gear you're in; mash the throttle and there's savage acceleration. The big V10 howls as the revs rise, accompanied by a thrilling whine from the supercharger as the power builds and builds. It's a very linear delivery and it feels relentless. Needless to say, within a very short space of time, you're into three-figures and leaning on those carbon ceramics to calm things down.

---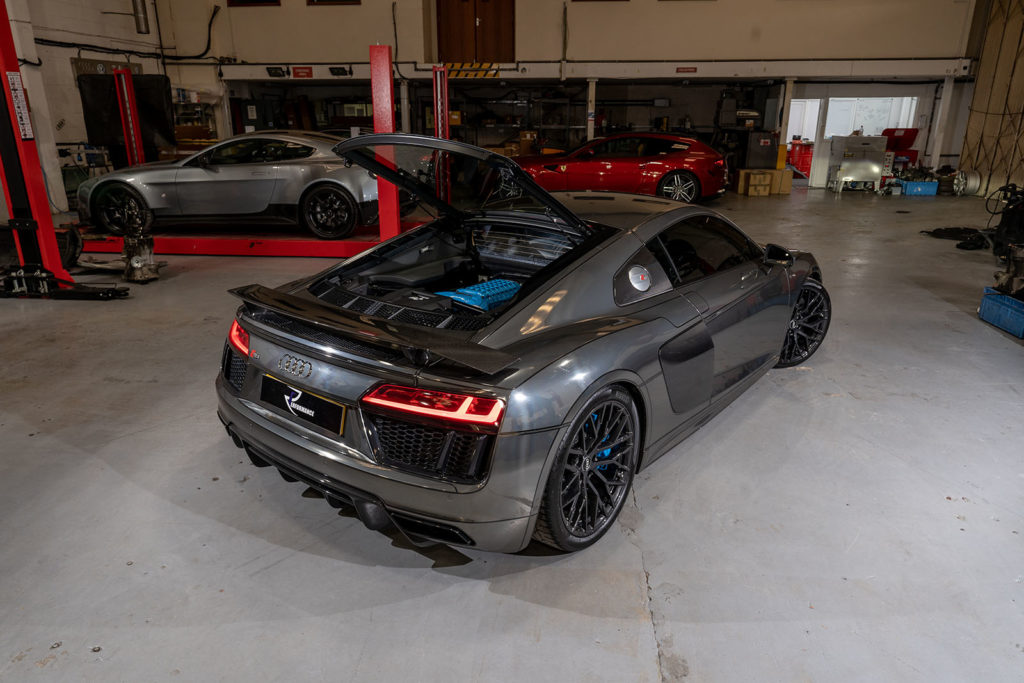 ---
Now let's be clear, a stock R8 Plus is a fast and highly capable car, but the VF800 package moves things into another league – giving it the performance to match some really big hitters with £250k+ price tags. If you love the sound and power delivery of the 5.2 V10, but just wish it had a little more poke, then the VF800 kit will not disappoint – whether you drive a Gen 2 R8 or a Lamborghini Huracan, it's a fantastic solution and guaranteed to put a huge smile on your face.

Click HERE to discover more about the VF800 supercharger kit from VF Engineering. We can supply and install this package to any Gen 2 Audi R8 or Lamborghini Huracan. Please call us for a quote.